A Clicker Voting System Makes Elections Simpler and More Efficient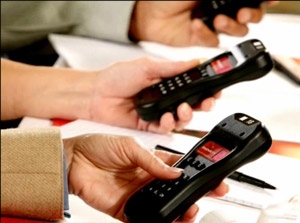 If you're considering using a clicker voting system for your organization's next election, it is important to get your equipment from a company that offers first-class technology and support services. Inferior options, such as do-it-yourself smartphone apps, can be time-consuming to set up and leave your organization vulnerable to problems, such as data loss, that can throw a wrench into the voting process. Fortunately, when you turn to Padgett Communications, you can rest easy knowing your election is in the hands of long-standing industry leaders who provide state-of-the-art voting technology and full-service support.
When you turn to Padgett Communications, you'll receive a clicker voting system that is fully tailored to your specific needs. For example, we offer devices with secure login capabilities to ensure all voting results are completely accurate. These same systems can make complex tasks, like voting more than one person into a multi-seated position, easy and efficient. We can even create or import a list of all delegates with their specific voting weights.
Additionally, no matter where in the world your election is being held, Padgett Communications will send a dedicated project manager to your location who will:
Set up your equipment and install the required software
Ensure all displays are easily viewable by your delegates
Familiarize you with using our system
Make last minute-changes and troubleshoot any problems that may arise during your election
Over the course of more than 20 years and countless elections, we maintained a 100 percent success rate. To learn more about the benefits of turning to Padgett Communications for a clicker voting system, contact us today.
Time and time again, Padgett Communications has exceeded our expectations

Time and time again, Padgett Communications has exceeded our expectations with their expertise in Audience Response technology. We were able to achieve measurable results and the process is worry free – thanks to Padgett's unsurpassed service and professionalism.

Deb Knott

Global Meeting Management Bristol-Myers Squibb

I would not consider any other company for my future audience response needs

After using Padgett's Keypad Solutions to great success and rave reviews, I would not consider any other company for my future audience response needs.

Kandus Simpson

Director Corporate Communications Ticketmaster®

Quickly and easily capture valuable information

Utilizing Padgett's leading edge wireless keypad technology enabled us to quickly and easily capture valuable information at Microsoft's recent Global Briefing event.

Mark Kornegay

Chief of Staff Microsoft® Services and IT
Support
Professional Grade Keypads
Reliable and versatile ARS voting solutions to fit any meeting's budget.
We do the heavy lifting
Our onsite Project Manager will design and operate the ARS portion of your event.
Take a look
Click here to get some ideas for onsite graphics and charts.
Try it yourself
Interact with our Worldwide Keypad by clicking here and play along.
Applications
General & Breakout Sessions
Sales & Corporate Conferences
Elections
Continuing Medical Education
Team Building
Education & Training
Focus Groups
Product Launches
Tradeshow Exhibits
Uses
Maintain audience engagement & involvement
Quickly build consensus
Streamline data compilation & archiving
Present poll results instantly
Illustrate complex concepts simply
Instantly archive compiled data for future access
Conduct fast, accurate, anonymous voting
Make instant demographic comparisons
Gather marketing information
Clients
Fortune 500 Companies
Pharmaceutical, Medical, & Health Associations
Production and A/V Companies
Professional Associations
Auto Makers & Transportation Companies
Syndicated Television Shows & Networks
Banking, Accounting, & Investment Firms
Energy Companies
Research & Technology Firms
How does it work? Watch our videos
Competitive Team Building
Interactive audience response game shows can test a group on current and future products, company history, or important events. The game show format, while promoting team building, can also assess information retention and understanding.
Questions can each be assigned a specific point value to keep score. A countdown clock set to lively music will keep the flow of your game moving and audience members engaged as responses are collected. Track individual scores or create teams by table, department, or a demographic of your choice with our interactive audience response games.
An interactive game show format makes even the most mundane questions fun to answer - plus it seamlessly tracks all responses so you can document who knows what when. Padgett can design game board screens using your organization's colors and logos, and we can also create games based on popular television shows
TV's biggest names rely on Padgett
Check out Padgett's Audience Response System as seen on these national TV shows. TV producers know to avoid unreliable apps and low dough solutions when their professional reputations are on the line. That's why Padgett only uses professional grade gear and seasoned project managers. From backstage to ballroom, we've got you covered.
Padgett Gadgett on Oprah
Padgett Gadgett on Dr. Phil
Padgett Gadgett on Dr. Drew
Padgett Gadgett on The Doctors
Padgett Gadgett on Anderson Cooper
Padgett Gadgett on Nate Berkus
Padgett ARS
VS
D.I.Y. Smart Phones ARS
Which device will win the highest audience cooperation rate?
Your Meeting. Our Support.
Why should you choose Padgett Communications to create an audience response program for your next event?
Because we understand what you have riding on the success of your meeting, and we are the only ARS Company that has the caliber of staff, support, and technology that your event demands.
It's why many of the biggest companies in the world rely on Padgett Communications to capture all of their meetings and election data.
Request a quote
For a FREE quote for your next event
Live Chat Software