ARS Election System Rentals for Organizations of All Kinds from Padgett Communications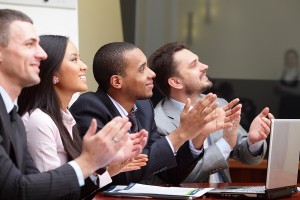 Choosing to rent an ARS election system from Padgett Communications can be highly beneficial for overseeing an election of any size or scope. As one of the most trusted and experienced companies in the business, Padgett can provide you with a reliable ARS election system that will make the election process simpler than you ever thought possible. We strive for excellence in all that we do, and we seek to provide a truly unparalleled experience by providing our customers with industry-leading:
Software – We've spent the better part of 20 years developing and honing our proprietary software to be perfectly suited for election purposes, and we're pleased to offer a product that is truly amazing
Voting keypads – With Padgett, you can choose from one of four different wireless handheld keypads, all of which are designed to be simple and fun to use
Customer service – We'll send along one of our professional project managers, who will assist in setting up all of the necessary equipment, educating you on how our election systems operate, and working behind the scenes to mitigate any complications should they arise
Election experience – More than anything, we strive to provide a level of personalized service that is unparalleled, and we will do what is required to ensure that you are completely satisfied with your entire experience with Padgett Communications
To find out more about renting an ARS election system from Padgett Communications, please contact us today. We'll be happy to guide you through the rental process and prepare a quote for you that will itemize everything you plan to rent from us, letting you know exactly how much everything will cost before anything is finalized.