ARS Rental Solutions for Events & Conferences in the Phoenix, AZ, Area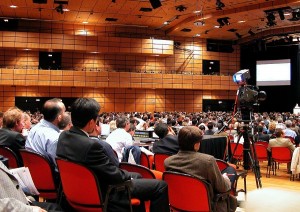 The ideal company to choose for ARS rental services for an event held in the Phoenix, Arizona, area is Padgett Communications. While other audience response system providers may promise perfection, our track record proves we deliver it. We have established a 100 percent success rate while facilitating audience response segments at events and conferences held in cities throughout the world, and clients continually return to us when they need an ARS rental because we always live up to our promise of providing flawless data and exceptional service.
When you bring Padgett Communications aboard as your ARS provider, you'll receive:
On-site support and service from a full-time Padgett Communications project manager for the duration of your event in Phoenix, AZ. This person will assist in everything from coordinating the hardware and software setup to determining the type and number of handheld keypads you need, to helping you choose the format for questions you will use.
Unparalleled flexibility that allows you to adjust your program on the fly, something you won't get from many other ARS rental providers.
State-of-the-art, user-friendly handheld keypads for your audience members to use during your interactive participation segments.
100 percent accurate data that is instantly stored and archived data for fast, easy access later.
Contact Padgett Communications today to receive a free, itemized quote for our ARS rental services, and learn how we can help enhance your upcoming event. We proudly offer audience response system solutions at events and conferences in Phoenix, AZ, and the surrounding area.