ARS Voting from Padgett Communications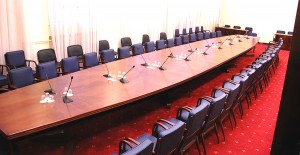 If you're looking for a way to poll the entire audience at your next meeting, show, or seminar – but you don't have the expertise, equipment, or time to make it happen – turn to Padgett Communications. Our ARS voting systems help you to perform seamless presentations and gather a wealth of information from your audience, while reducing the workload on you.
Audience Response Systems, or ARS, are used to ask questions and generate real-time answers from audiences of any size. With our technology, there's no more spending countless hours looking through handwritten responses and making sense of the information. Thanks to Padgett, your data can quickly be transferred into Excel spreadsheets, PowerPoint presentations, and PDFs for easy viewing, compilation, and analysis.
Our devices are commonly seen on television shows such as The Doctors, Dr. Phil, and Oprah. Just as they look on TV, our handheld keypads are easy and fun to use, as well as extremely reliable. A project manager from Padgett will assist you throughout the event to ensure everything goes as planned. The ARS voting systems from Padgett Communications can help you gain vital information from your attendees while making the event enjoyable, allowing you to ask:
Multiple choice questions
Priority ranking questions
Innovative X-Y mapping questions
Interactive gaming questions
Much more
At Padgett, one of our project managers will work personally with you to help you determine the most effective way for your business to use our handheld keypads and ARS voting software. Our superior service and expertise in the field – as well as our 100 percent success rate – has allowed us to work with such well-known clients as Coca Cola and the National Football League. Call or click today for a free, itemized quote, and allow us to work with your company for your next event.