Instant, Reliable Audience Analysis From Padgett Communications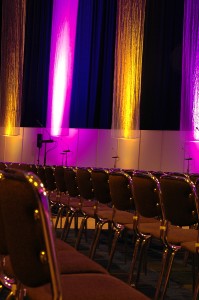 Why wait days or weeks to comb through a pile of audience analysis paperwork or PDFs? The sooner you are able to see the information you hoped to gather during your event or meeting, the sooner you can take action based on that information. And nothing is sooner than instant. That's what an audience response system (ARS) from Padgett Communications can provide – the ability not only to see what your attendees are thinking, but to revise your presentation on the fly to further drill down for deeper, more meaningful analysis in the moment.
How can you take full advantage of the intellectual possibilities of a gathering of your peers, potential customers, focus group members, coworkers, subordinates, or convention attendees? Working with an event-dedicated Padgett project manager, you can formulate your ARS plan well ahead of time. You'll determine what questions to ask, as well as how to ask them and display the results. And everything can be instantly archived and stored on Padgett's secure servers for easy access if you want to conduct deeper audience analysis. Padgett's handheld wireless devices and the interactive give-and-take inherent to a state-of-the-art ARS system are ideal for gathering real-time information when you want to:
Identify what's working – and what's not – in a business or organization
Build a consensus and prioritize concepts
Gauge support for new ideas
Protect the identities of individual respondents
Engage the audience and maintain attendee interest
Call or click today for a complimentary, completely itemized quote for your next event, or to learn more about how Padgett Communications can facilitate reliable, useful audience analysis.