Figuring Out the Best Audience Engagement Ideas for your Event or Conference in Birmingham, AL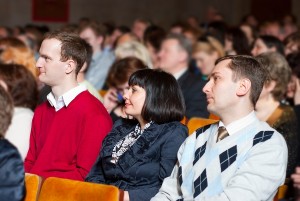 The best audience engagement ideas are those geared toward your specific industry and coordinated with the specific goals of your particular event. Sometimes, though, it can take some professional assistance to conjure up the most effective ideas. At Padgett Communications, we can provide that level of personalized service for events and conferences held in Birmingham, Alabama, and in other cities throughout the surrounding area.
What has truly helped us distinguish ourselves as an industry-leading audience response system company is the customer-centric approach we employ. We assign a full-time Padgett Communications project manager to every job we undertake in Birmingham, AL, and elsewhere throughout the world. This professional project manager will work closely with you on-site and facilitate everything involved with our audience response system, including helping you determine the most efficient and effective way to incorporate our state-of-the-art handheld keypads and top-of-the-line ARS software into your meeting. You can count on Padgett Communications to help you realize the best audience engagement ideas possible.
There are numerous ways to engage an audience when using ARS equipment from Padgett Communications, including:
Taking surveys
Coordinating breakout sessions
Conducting training and educational seminars
Staging interactive games
And more
Contact Padgett Communications today to learn more about why we are the ideal choice when you want to incorporate an audience response system at your event in Birmingham, AL, or another nearby area. We will gladly provide a free, itemized quote for our services, and explain how we can help you implement your audience engagement ideas.