Incorporate Audience Feedback at Your Next Event Held in Sao Paulo, Brazil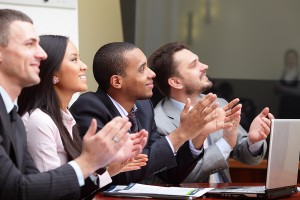 Meeting and event planners who want to gather audience feedback at an upcoming event in Sao Paulo, Brazil, should turn to the audience response system experts at Padgett Communications. We have provided audience response system (ARS) services to clients all across the world, and we have established ourselves as an international leader in the ARS industry by compiling a 100 percent success rate at events we've facilitated while providing customer service that is second to none.
While you may think going with a do-it-yourself "meeting in a box" can yield satisfactory results, the risk of potential pitfalls and failures going that route is too great. Using cut-rate electronic voting systems opens the door for potential audience feedback equipment malfunctions, and with no professional assistance on hand during your event, you won't be prepared to troubleshoot issues with audience feedback that can arise. When partnering with Padgett Communications for ARS service, attendees at your event in Sao Paolo, Brazil, will use state-of-the-art, user-friendly transmitters that are field-tested and feature the latest technology and software, and we guarantee 100 percent reliable data will be provided. Plus, we will assign a full-time Padgett Communications project manager to provide professional, efficient collaboration from initial consult to post-event analysis, giving you peace of mind that any unforeseen issues with audience feedback can be rectified quickly and efficiently.
Our ARS service is ideal for:
Audience surveys
Employee feedback
Focus groups
Team building
Sales meetings
New product testing
Much more
Contact Padgett Communications today for more information on why we are the logical choice when you want to incorporate audience feedback at an upcoming event. We proudly provide service to meetings, conferences, and seminars held in Sao Paulo, Brazil, and all across the world.