Fun Audience Interaction Games to Play at Your Next Event to Keep Attendees Engaged Throughout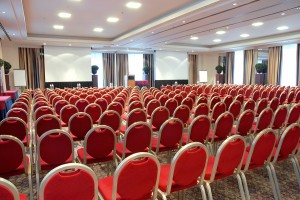 Audience interaction games can captivate attendees at conferences, meetings, and events alike, attracting and keeping the full attention of virtually everyone present. As we all know, sitting in a hotel ballroom or even an office conference room and listening to someone else speak for what feels like hours on end can often be dull. However, incorporating games into such an event can help to make the time pass by in an engaging and fun way. And, at Padgett Communications, we proudly rent audience response systems (ARS) that are perfectly suited for incorporating fun games into any event.
Choosing to rent an ARS system from Padgett Communications means you'll be able to incorporate all sorts of different audience interaction games into your presentation, meeting, or event. Here is just a small sample of the types of games that can be played with our state-of-the-art technology:
Quizzes on current events
Company, organization, or industry history quizzes
General trivia games
Interactive games in the format of popular TV shows, such as Who Wants to Be a Millionaire? and Jeopardy!
Other fun games that incorporate yes/no, true/false, or multiple-choice questions to ask your meeting's attendees
And more – the ideas are endless and entirely up to you
If you'd like to learn more about the ARS rentals available from Padgett Communications and the variety of audience interaction games that you can facilitate to your event attendees with our equipment, please contact us today. Our team will be pleased to assist you in finding the right ARS rental for your needs, and will even provide you with an itemized quote for your rental.