Audience Interaction Solutions for Events & Conferences Held throughout the San Antonio, TX, Area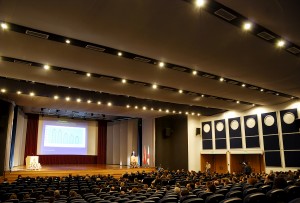 If you plan to incorporate electronic audience interaction at your upcoming event in San Antonio, Texas, it's imperative you utilize equipment that your attendees will find easy to use and can be trusted to provide accurate data. For these reasons, it's best to partner with Padgett Communications, the leader among audience response system (ARS) providers. Our audience response devices feature the latest in wireless keypad technology and are field-tested to ensure they will deliver 100 percent reliable data in real time. They also have a sleek, eye-catching design and allow for effortless operation, enabling your event's audience interaction segments to run smoothly.
While we offer state-of-the-art audience interaction equipment, what truly sets Padgett Communications apart from other ARS providers is the unparalleled customer service we provide. When partnering with our company for your conference or meeting in San Antonio, TX, you can count on:
A highly trained, dependable, full-time Padgett Communications project manager who works on-site to handle every aspect of ARS planning, setup, rehearsal, and execution
Unmatched flexibility that allows you to adjust your audience response program on the fly, if necessary
Instantly stored and archived data for fast, easy access when you need it
And much more
Learn more about why countless companies – from small firms to Fortune 500s – have turned to Padgett Communications for audience interaction solutions by contacting us today. We'll gladly provide you a comprehensive quote for our services for your upcoming conference or meeting in the San Antonio, TX, area.