State-of-the-Art Audience Polling Technology for Organizations of All Sizes in Baltimore, MD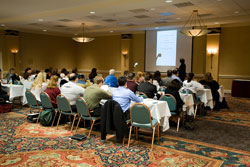 Interactive audience polling technology from Padgett Communications helps organizations in Baltimore, Maryland, turn potentially dull meetings, events, and conferences into lively and engaging experiences. By providing each member of the audience with a handheld device that can be used to respond to prompts, he or she will be able to interact with the presentation and be more likely to retain the information being communicated.
Padgett Communications' audience polling devices are highly versatile and can be tailored to your organization's specific needs. For example, at your event in Baltimore, MD, you'll be able to play interactive trivia games, administer elections, facilitate breakout sessions with fun icebreakers, gain valuable feedback from your audience, and much more. Over the years, our devices have been used by organizations of all kinds including:
Syndicated television networks
Pharmaceutical, medical, and health associations
Banking, accounting, and investment firms
Research and technology companies
Production companies
And many others
The versatility and reliability of our technology is only one of the reasons to turn to Padgett Communications for audience polling solutions. We also provide unparalleled customer support to ensure each and every event we take on goes as smoothly as possible. This includes on-site service from a trained project manager who will set up all equipment, ensure displays are easily viewable by the audience, and facilitate a pre-event walkthrough. Our project managers even remain on site during each event to provide any on-the-fly changes that might be required.
To learn more about the audience polling solutions that Padgett Communications provides to organizations in Baltimore, MD, contact us today.