Audience Polling Options with Versatile Data Collection Methods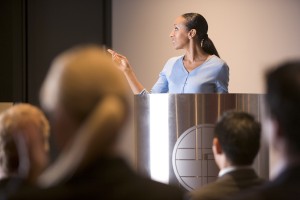 No matter how large or small your event, reliable audience polling provided by Padgett Communications will improve your ability to gather and measure valuable feedback from your audience members. With state-of-the-art wireless touchpad and keypad devices and secure radio frequency transmission, every piece of information gathered during the meeting or event is instantly archived and formatted, then stored on a secure Padgett server for later use when it is convenient.
The means you choose for audience polling and the ways you format and display that information is entirely your choice, and Padgett offers a wide variety of ways for the presenter and attendees to interact. Your Padgett Communications project manager will help you determine what methods are best for you. The options include, but are not limited to:
Game show formats
True and false questions
Multiple choice questions
Survey questions
Demographic questions
And more
Those details will be worked out well in advance of the event. Then, no matter where in the world your event is held, a Padgett Communications employee serves as your on-site project manager. That means you are free to focus on other priorities while Padgett handles every aspect of your audience polling system, including:
Rehearsal
Setup
Software programming
On-the-fly adjustments during the presentation
For more information about how an audience response system from Padgett Communications can help you produce unprecedented efficiency and depth with your audience polling, click or call today.