Customizable Audience Polling Devices Improve Audience Interaction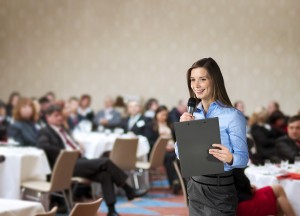 The audience polling devices offered for rent by Padgett Communications are completely customizable and programmable, allowing our clients to personalize meetings or presentations for their attendees. Our hand-held devices also operate on a reliable, stable radiofrequency (RF) signal that won't crash, like a Wi-Fi or cellular signal might. Finally, the results of the audience interaction are displayed immediately and securely archived for access later.
All of the features of our audience polling devices and other equipment require planning and setup, which might seem a bit complex to the uninitiated. Not to worry, though; a Padgett employee will be by your side from start to finish to help with planning, setup and implementation of your audience response system (ARS). We can help you select an appropriate device from our four options, and can provide ideas about how to incorporate your organization's logo on each device to give the event that personal touch. And because your project coordinator is an experienced Padgett employee − never a freelance contractor − you know your ARS service is in capable hands.
Unlike an ARS provider that sends you the audience polling devices and other components for a "meeting in a box," Padgett Communications takes personal responsibility for all aspects of your ARS. We will:
Set up the equipment
Install the software
Conduct the rehearsal
Prepare for contingencies
Alter the program on the fly, if necessary
Provide superb customer service from start to finish
To learn more, or to request an all-inclusive upfront quote, click or call Padgett today. We rent audience polling devices and provide our personalized ARS services for events in countries around the world.