How Padgett Communications' Audience Polling Solutions Solve Your ARS Problems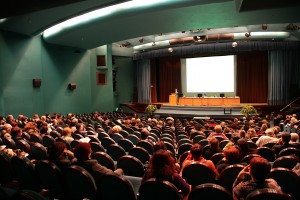 The audience polling solutions offered by Padgett Communications transform a routine meeting or conference into a productive, interactive experience. Our audience response system (ARS) eliminates uncertainty about whether your message was received and understood. It also allows you to grab your audience's attention with an interactive game show, or challenge conventional wisdom with insightful, consensus-building poll questions.
Our audience polling solutions are perfect for gatherings of any size, from small sales meetings to stadium-sized speeches. The ARS experts from Padgett work hand-in-hand with meeting and event planners to determine how best to implement your audience feedback plans. The many potential uses include:
Employee feedback
Audience surveys
New product testing
Sales meetings
Focus groups
General breakout sessions
Team building
Education and training
Strategic planning
And more
We understand that you have many choices when it comes to ARS providers, which is why Padgett Communications' audience polling solutions are furnished along with the best customer service in the industry. We have achieved a 100 percent success rate coordinating thousands of events, big and small, since entering the ARS field in 1995. Our system combines the simplicity of a handheld keypad with the clarity and versatility of high-quality audio, video, and graphic presentations to provide instant feedback. There is no more efficient or informative way to conduct interactive business in a group setting.
Call or click today to learn more about the exciting, innovative ways to use a Padgett Communications audience polling solutions to get the most out of your conference or meeting. We'll provide a free, itemized quote for your event to eliminate any surprises on your final bill.