Innovative Audience Polling Tools Help to Streamline the Efficiency of Meetings and Events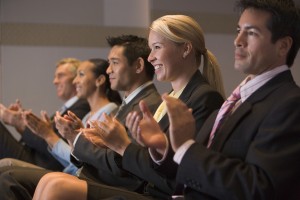 Padgett Communications provides a range of different audience polling tools that come as part of an audience response system (ARS) rental. From conducting market research data and administering tests to managing an election and playing interactive games, it's all possible when you rent ARS equipment from Padgett.
Not only will we provide you with among the finest ARS equipment, complete with audience polling tools, but we'll be there to provide personalized service that is truly unparalleled. For each ARS rental, we also send along one of our professional, personal project managers to assist you from beginning to end. More specifically the project manager that we provide you with will:
Set up all ARS equipment and install all software, ensuring that everything works just as it should
Manipulate the video boards, projector screens, or other displays on site to fit the needs of your event
Provide you with a pre-event walkthrough to familiarize yourself with our equipment and software, and to allow you to know what to expect before everything gets underway
Remain by your side throughout your event to give you added confidence and to quickly address and troubleshoot any problems in the event that something goes wrong
To find out more about the different audience polling tools available with an ARS rental from Padgett Communications and how they can help to enhance your upcoming meeting or event, please contact us today. No matter how much or how little you plan to rent from Padgett, we'll provide you with a complete itemized quote to detail prices in full before you rent.