Audience Polling Solutions from the ARS Experts at Padgett Communications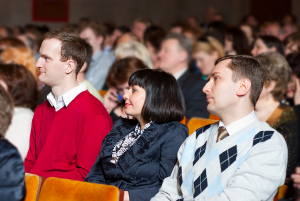 At Padgett Communications, we have delivered reliable audience polling solutions at events and conferences held in cities throughout the world since our company was founded in 1995. During that time, we have established ourselves as a world-leading audience response system (ARS) provider for consistently delivering flawless results. In fact, we have maintained a 100 percent success rate when providing ARS service, leaving countless customers satisfied in their experience with our company. The best way to ensure impeccable collection of data when requesting audience feedback at your event is to have the professionals at Padgett Communications facilitating those audience response segments on your behalf.
What truly sets Padgett Communications apart from other ARS companies is the world-class customer service and gold-standard technology that we utilize. When providing audience polling solutions, we offer the latest in handheld keypad technology and ARS software, and all of our equipment is field-tested to ensure proper functionality and reliability. We also assign a full-time project manager to oversee all aspects of our service, including equipment setup and customer support for the duration of your event. Simply put, you leave all audience surveying and data compilation responsibilities to us, allowing you to focus your energy on other aspects of your event.
Our ARS service is ideal for a wide variety of situations, including:
Market research
Surveys
Delegate voting
Classroom learning
Corporate conferences
Interactive game shows
And more
Contact Padgett Communications today to learn more about the advantages of partnering with us for audience polling solutions.