Audience Response Systems for Rent from an Industry Leader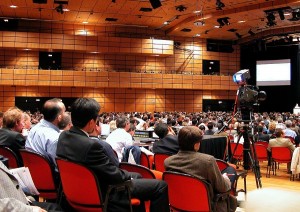 At Padgett Communications, we have premium audience response systems for rent that are ideal for a wide variety of applications. Since 1995, we have served businesses of all sizes around the globe to increase audience engagement at their events as well as collect valuable data from participants.
We offer a wide range of audience response systems that can be tailored to your unique needs. Our handheld devices include:
Padgett Mini – These are small clickers that are ideal for simple applications, such as yes/no and multiple choice questions.
Padgett Plus – Featuring multi-selection functionality and login capabilities, these clickers can be used in a wide range of applications.
Padgett Worldwide – These sleek clickers have an easy-to-read display that confirms answer selections.
Padgett Ativa – These are the industry's most advanced keypads, featuring a touchscreen, keyboard, and full color display.
In addition to renting top-notch audience response systems, Padgett Communications also provides first-class service and support. This will begin from the moment you contact us, when a friendly representative will listen to your unique needs and provide you with a fully itemized price quote for everything you'll receive from us. We'll then help you to put together an effective presentation by providing custom audio, video, and graphics. Finally, we'll send a project manager to your location who will take care of equipment setup, software installation, running a rehearsal, and troubleshooting during your event. It's no wonder that Padgett Communications has maintained a 100 percent success rate since we began more than 20 years ago.
To learn more about the audience response systems we have for rent and the many benefits of working with our team, contact Padgett Communications today.