Audience Response Games Can Be a Great Teamwork Building Tool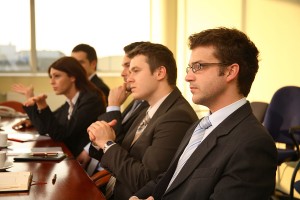 Teamwork in the workplace can be vital to the success of a company. There are multiple ways to approach teamwork building, so why not make it enjoyable? Audience response games from Padgett Communications are great teamwork strengthening tools, and they have the ability to transform what could be an ordinary company function into a lively, entertaining event, while still allowing you the opportunity to focus on what matters most – encouraging teamwork among your employees.
The range of audience response games available through Padgett Communications includes variations of popular game shows such as "Who Wants to be a Millionaire?" and "Jeopardy," as well as many trivia formats that can be customized to your specific preferences. The games are implemented using our user-friendly handheld keypads and the latest in audience response system (ARS) technology. Using our sleek devices, your employees can work in teams to quickly and effortlessly provide responses to questions, which can be posed in yes/no, true/false, and multiple choice formats. The results and standings can then be displayed graphically after each round, giving you great insight into how the different teams are working together during the audience response games.
When partnering with Padgett Communications for ARS solutions, you'll also benefit from our excellent customer service, one of our company's hallmarks. We will assign a highly trained project manager to oversee the entire operation, handling duties that include:
Performing pre-meeting checks on ARS voting equipment, audience sight lines, and the acoustic integrity of the room where the meeting will be held
Providing on-site assistance for the duration of the event
Troubleshooting any issues that may arise
And more
Contact Padgett Communications today to learn more about how utilizing our audience response games can facilitate your company's efforts in encouraging and strengthening teamwork throughout the workplace. We will gladly provide you with a free, itemized quote for your planned teamwork building exercise and explain why we should be your audience polling company of choice.