Padgett Communications Provides Audience Response Rental to Organizations in Dallas, TX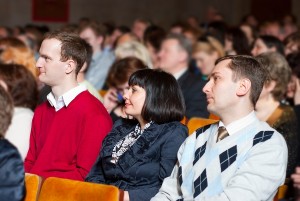 If you're looking for a company that you can rely on to provide audience response system rental for your upcoming event in Dallas, Texas, turn to Padgett Communications. We have served organizations of all sizes across a wide range of industries since 1995 and have maintained a 100 percent rate. What's our secret? We use the finest audience response technology and provide a level of service and support that is unmatched by our competitors.
At Padgett Communications, the audience response systems that we provide can be tailored to your unique needs, ensuring you get the most out of your event in Dallas, TX. For example, our devices can be used for anything from responding to simple yes/no questions to more complex applications, such as large group elections.
Perhaps best of all, when you turn to Padgett Communications for audience response rental, you'll receive comprehensive support from an experienced project manager who will travel to your location and:
Set up your equipment and install all necessary software
Ensure all video displays are easily viewable by your entire audience
Perform a rehearsal, so you are comfortable with using our equipment before your event begins
Remain onsite during your event to perform troubleshooting and make last-minute changes if necessary
If you'd like to learn more about the benefits of turning to Padgett Communications for an audience response rental for your upcoming meeting or event in Dallas, TX, contact us today. We'll be happy to discuss your needs, make recommendations, and provide a complete quote that includes everything you'll receive from us.