Comprehensive Audience Response Service for Organizations Holding Events in Baltimore, MD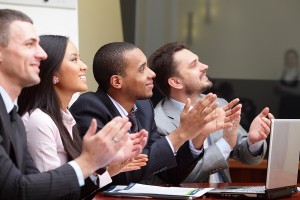 For the finest audience response service available to organizations in Baltimore, Maryland, or anywhere else in the world, Padgett Communications is the company to call. Since 1995, we have helped our customers make the most of their meetings and events by providing state-of-the-art audience response technology along with full-service support.
At Padgett Communications, our audience response service is exceptionally versatile and can be tailored to our customers' unique applications. Whether you are looking to get feedback from the audience at an upcoming product launch or holding an election at your Fortune 500 company, our service is the perfect solution. Our devices include:
Padgett Mini – This small device allows for up to 5 answer options, making it ideal for responding to simple prompts.
Padgett Plus – With features such as multi-selection capabilities and secure logins, this keypad is the best choice for elections.
Padgett Worldwide – This device allows for up to 10 answer options and has three "soft keys" which allow participants to notify the presenter when they have a question or comment.
Padgett Ativa – The industry's most advanced keypad, this device has a full-color touchscreen display and a QWERTY keyboard.
When you turn to us for audience response technology, you can be sure your event will go smoothly. We've maintained a 100 percent success rate over the course of more than 20 years because we provide comprehensive, on-site support from an experienced project manager. He or she will set up your equipment, facilitate a rehearsal, and even stand by during your event to perform troubleshooting, if necessary.
To learn more about the audience response service we provide to organizations in Baltimore, MD, and around the globe, contact Padgett Communications today.