Full Audience Response Service from the Trusted Professionals at Padgett Communications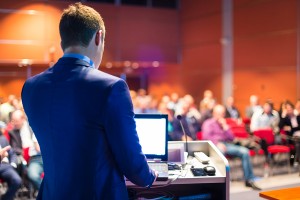 Hands down, Padgett Communications provides the finest audience response system (ARS) rental service of any company in the industry. Since 1995, we have striven to be a premier ARS rental company and to liven up conferences and events by making them interactive. And, through it all, impeccable customer service has been at our core.
Here is a quick overview of how your event will flow when you choose audience response system service from Padgett Communications:
You will be greeted by one of our friendly, knowledgeable project managers, who will educate you on what to expect during the event and how everything will go
On the day of the event, that same project manager will set up all ARS equipment for you and install all necessary software
Your displays will be set up in a way that maximizes engagement among your event's attendees
Your project manager will provide a pre-event rehearsal to help acclimate you to the ARS system and how things will be carried out
Finally, your event will go off without a hitch, and you'll have added confidence in your presentation with your project manager standing by your side
Taking things just one step further, all of our ARS equipment can be tailored to your specific needs. So, if you want to incorporate a fun game into your event or administer a quiz, the Padgett team can make it happen for you.
To gather more information and specifics on the audience response systems and service for rent from Padgett Communications, please contact us today. When you do, we'll be happy to answer any further questions you have for us. And, we can even provide you with a full, itemized quote for your rental.