Audience Response System for Trade Shows, Conventions and More in Atlanta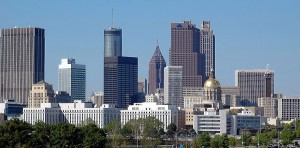 If you are looking for a fully invested audience response system provider for your next event in Atlanta, consider working with the professionals from Padgett Communications. The heart of our service is a total commitment to the success of your event. We understand that reputations and careers can be made or broken based on the outcome of a meeting or convention. With so much at stake, why leave anything to chance?
Since 1995, Padgett has proven its worth time and again by providing smart, flawless audience response system solutions for events in Atlanta and all over the world. Need to liven up a room? Try an interactive game show format. Trying to build consensus among a large group? Start a real conversation with your audience by getting instant feedback with our simple-to-use wireless handheld devices. Conducting focus group research? Save money and time with instant archiving and storage of data on our secure servers for easy access later.
As you consider your ARS options, remember that Padgett Communications:
Uses only trained, dependable, full-time Padgett staff and provides on-site support and service.
Uses 100 percent reliable, user-friendly, field-tested equipment.
Lists all charges on the event quote to avoid hidden costs.
Has a vast amount of experience working with all types of industries.
Can provide a long list of names of recognizable, reputable clients who have been completely satisfied with past events.
We know that meeting planners already have plenty of responsibilities to keep them busy in the days and weeks leading up to an event. The last thing they need is to worry about whether the ARS service will let them down at an inopportune moment. That's never a concern with Padgett Communications by your side. We guarantee that you will look good in front of supervisors, peers, and other event attendees.
Click or call today for a comprehensive quote on an audience response system for your next meeting, trade show, or convention in Atlanta.