Audience Response System for Meetings, Conventions in Chicago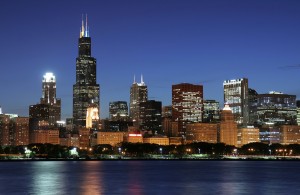 Considering an audience response system for your next meeting or convention in Chicago? You'll find no better ARS partner than Padgett Communications, the chosen provider for many Fortune 500 companies and Oprah Winfrey.
Padgett's audience response system is ideal for any of the important events held in the major convention hub of Chicago, including continuing education seminars, sales meetings, audience surveys, focus groups, new product testing, and much more. With Padgett by your side, you can rely on:
A full-time Padgett Communications employee (never a freelance contractor) works as your project manager, helping determine the type and number of state-of-the-art, handheld live audience feedback devices you'll need, the format you'll use for questions and answers, and how your information will be displayed in real-time.
Your project manager works on-site right alongside the event planner, coordinating hardware setup, rehearsal, software setup, and everything it takes to ensure a smooth, productive presentation.
During the presentation, Padgett Communications is there to help you adjust your program on the fly, if desired. You won't find this kind of flexibility anywhere else.
As you collect audience feedback data, it is instantly stored and archived in Padgett's secure servers for fast, easy access later.
Of course, the foundation of any audience response system is the handheld device, and this is another of Padgett's many strengths. We offer a choice of four different types of audience response clickers and touch pads, all of which have a simple-to-use interface and are customizable with corporate logos. They operate on a robust frequency-hopping spread spectrum (FHSS) and are infinitely more reliable than cellular and wireless Internet signals used by smart phones.
Click or call today for a detailed, itemized quote for an audience response system for your next event in Chicago.