Audience Response System Solutions for Events and Meetings in Los Angeles, CA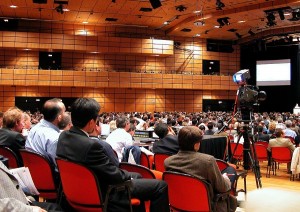 Using an audience response system will help your organization make the most of your next event or meeting in Los Angeles, California. These systems will allow your audience to interact with your presentation, thereby increasing engagement and retention of information. However, it is important to ensure you select a completely reliable audience response solution because software freezes, data loss, and other problems can potentially throw a wrench into your event.
Padgett Communications is a leading provider of audience response system solutions for organizations holding events in Los Angeles, CA, and throughout the world. Since 1995, we've maintained an incredible 100 percent success rate. What's our secret? For each event, we send a highly trained and experienced project manager who will take responsibility for everything from setting up your equipment and configuring your displays to performing a pre-event rehearsal to familiarize you with our system. Your project manager will even remain on site during your event to quickly troubleshoot any issues or to make on-the-fly changes.
Additionally, Padgett Communications uses only top-of-the-line audience response devices, which are versatile and suitable to a wide range of applications, including:
Receiving general audience feedback
Team building exercises
Training sessions
Trivia games
Elections
And much more
If you're interested in learning more about the benefits of using an audience response system from Padgett Communications for your next event or meeting in Los Angeles, CA, contact us today. A knowledgeable representative will be happy to discuss your needs and provide you with a complete price quote that includes everything you'll receive from us.