Comparing Audience Response System Rental Companies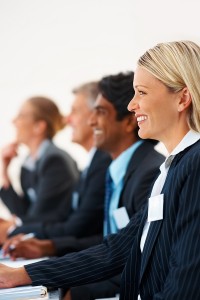 Comparing audience response system (ARS) rental companies is never a simple matter of price. At Padgett Communications, we believe an ARS provider must be fully invested in an event. We understand that sales can be made or lost, reputations can be built or broken, and careers can thrive or fail with the performance and effectiveness of a meeting or conference presentation.
That's why we at Padgett Communications urge you to consider carefully when choosing an audience response systems (ARS) provider. Look beyond price and ask the following questions:
Does the ARS provider use a trained, dependable, full-time staff?
Am I being offered 100 percent reliable, user-friendly, field-tested equipment?
Is everything that I will be charged for listed on the event quote?
Are the capacity and experience of the provider compatible with my creative ideas and requirements?
Can the ARS company quickly provide names of recognizable, reputable clients with 100 percent past event satisfaction?
Padgett Communications is proud to say we can answer "yes" to every one of those questions. We are a world-class ARS provider, able to compare ourselves favorably with audience response system rental companies around North America and throughout the world. Superior customer service and innovative ARS technology are our hallmarks. Our ability to deliver on our promises is supported by a 100 percent success rate for thousands of events since our founding in 1995.
Call or click today to find out more about what makes Padgett Communications the audience polling company to choose for your next conference or meeting. We'll gladly provide a complimentary, fully itemized quote for your next event.