Padgett Communications – The Premier Audience Response System Rental Company in the Business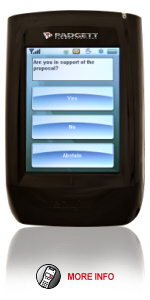 Padgett Communications is the audience response system (ARS) rental company that you can rely on time and again for the finest ARS equipment and truly personalized service. We offer a tremendous suite of ARS software and keypads to choose from, and we'll be pleased to help you find the right combination of each to be the perfect solution for your audience feedback needs.
Certainly, when renting ARS equipment, you want to be sure that you are choosing just the right company to provide you with quality equipment and personalized service. We understand that as well as anyone, and that is why we make it a point to go above and beyond what other ARS rental companies offer. When you choose Padgett, you can expect us to:
Help you choose from all sorts of different ARS equipment and handheld keypads to provide you with the perfect options for your unique needs
Not only provide you with the ARS system, software, and equipment that you need, but also provide you a personal project manager who will help install everything for you and set it all up prior to your event
Provide the kind of personalized customer service that has helped us to maintain a perfect 100 percent success rate
Always be here to provide assistance and answer any questions you have regarding your ARS rental
For more information about Padgett Communications, the rental equipment that we can provide for you, and why we are regarded as the premier audience response system rental company in the business, please contact us today. Our team will be pleased to assist you in finding the perfect ARS rental for your needs and can even prepare a full, itemized quote for you to detail out individual prices of all that you choose to rent.