Why Rent an Audience Response System from Padgett Communications?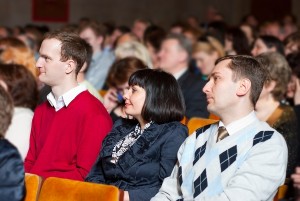 If you're considering renting an audience response system (ARS) for an upcoming meeting, event, or conference, allow the team at Padgett Communications to be of service. We proudly rent out all sorts of ARS systems, and we'll be pleased to help you find just the right combination of ARS software and handheld clickers to meet your specific demands.
When you turn to Padgett Communications for an audience response system rental, we won't just mail you the equipment you need to run your event and wish you well on figuring out how to work everything. Whereas some companies might take this approach, we believe in providing a more personalized level of a service. Along with the equipment we send you, we'll also send one of our dedicated personal project managers to help:
Set up all ARS equipment and install all software, gearing everything toward how you plan to use it for your event
Configure all displays, monitors, and projectors screens and ensuring that the ARS equipment is hooked up appropriately with them and that the displays can easily be seen by all attendees
Familiarize you with the ARS equipment via a pre-event walkthrough, which will also help to give you the confidence you need to run a successful event
Quickly troubleshoot any problems or technical difficulties that might arise during the event so that there are no unwelcome delays or interruptions
For further information about renting an audience response system from Padgett Communications for an upcoming event or meeting, please contact us today. When you do, we'll work with you to find precisely the ARS system you are after, and we'll leave you with a completely itemized quote detailing everything that you plan to rent from us.