Experience, Performance History Matter When it comes to Audience Response Systems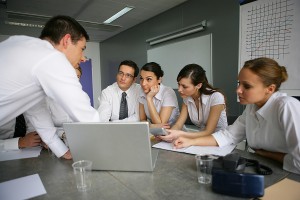 Using audience response systems (ARS) from Padgett Communications for your meeting or conference removes the uncertainty about how audience members really feel about your product or ideas. That's because Padgett's ARS happens in real time, and it is implemented and operated by an on-site Padgett Communications employee. Our hands-on approach to ARS has ensured a 100-percent success rate at thousands of events since 1995. That kind of experience and performance history just can't be faked.
And the audience response systems from Padgett are a perfect cure for boredom, too. We give you many options for livening up the event, including interactive game shows and real-time trivia contests.
Here's how our audience response systems work:
A full-time Padgett Communications employee serves as your project manager, helping determine the type and number of state-of-the-art, handheld live audience feedback devices you'll need, the format you'll use for questions and answers, and how your information will be displayed in real-time.
Your project manager works on-site with the event planner, coordinating hardware setup, rehearsal, software setup, and everything it takes to ensure a smooth, productive presentation.
During the presentation, Padgett Communications is there to help you adjust your program on the fly, if desired, increasing audience involvement and learning.
As you collect audience feedback, it is instantly stored and securely archived for fast, easy access later.
Every Padgett client comes away satisfied, and they know where to turn when they need accurate, real-time audience response to products during focus groups or feedback sessions. We are fully invested in every event, because we know that we look good when you look good. Call or click today for a complimentary itemized quote for the audience response systems at your next meeting or event.