Audience Response Systems for Events & Conferences Held in the Minneapolis-St. Paul, MN, Area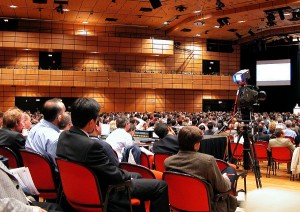 Event organizers in the Minneapolis-St. Paul, Minnesota, area who want to incorporate audience response systems (ARS) at their upcoming meeting or conference should turn to the ARS experts at Padgett Communications. We have established ourselves as an international leader in the industry by maintaining an unblemished success rate at conferences and meetings held throughout the world and for offering unmatched customer service. While some companies in the ARS industry may promise perfection, we are the only company with the track record that proves we can deliver impeccable results. And when partnering with our company, you can trust that we'll be there, working right by your side, from the planning stages until the conclusion of your event, to ensure a smooth presentation.
With audience response systems from Padgett Communications, you can rely on:
A full-time Padgett Communications project manager who will work with you on-site at your Minneapolis-St. Paul, MN, area event, making certain that every aspect of audience response is handled by one of our highly trained team members
Innovative, user-friendly, and field-tested keypads for audience interaction segments
100 percent reliable data that is quickly stored and easily accessible when you need it
And much more
No matter how big or small an event you have planned, make the smart choice and hire Padgett Communications to ensure that the audience participation segments are flawlessly executed. Contact us today to receive a free, completely itemized quote for implementing audience response systems at your upcoming meeting or conference in the Minneapolis-St. Paul, MN, area.