Reliable Audience Response Products Available for Conferences & Events Held in Cities Worldwide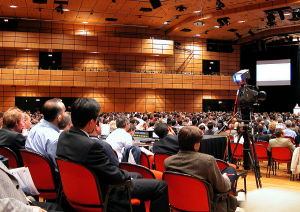 The audience response products available to rent from Padgett Communications are among the finest available in the audience response system (ARS) industry. We use state-of-the-art, handheld keypads that are user-friendly and allow audience members to provide feedback to questions quickly and easily, and cutting-edge, customizable software that you won't need to worry about causing a disruption during your live event.
While our audience response products are without a doubt among the best available in the industry, what truly sets Padgett Communications apart from other ARS companies is our commitment to providing world-class customer service. In every event where we facilitate audience feedback sessions, we assign a dedicated project manager to oversee all aspects of the service we provide. This person is a full-time employee at Padgett Communications who has intricate knowledge of all of the ARS equipment we use, not some third-party contractor with no real understanding of the ARS technology being utilized. And, this project manager will handle a variety of tasks, allowing you to focus your energy elsewhere. The project manager will:
Help you develop an audience response plan covering questions and display options
Handle all ARS equipment setup and conduct pre-meeting rehearsal checks
Work on-site for the duration of your event, troubleshooting any issues that may arise and providing you with the ability to adjust your program on the fly if necessary
And more
Learn more about the benefits of renting audience response products from Padgett Communications by contacting us today. We will gladly provide you with a complimentary quote for our ARS service.