Audience Voting Systems and Full Service Support for Organizations in Colorado Springs, CO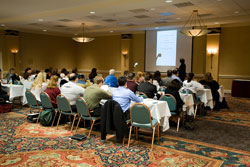 Padgett Communications is proud to provide state-of-the-art audience voting keypads to organizations in Colorado Springs, Colorado, which make elections as easy and efficient as possible. Our technology has advanced features, such as secure logins and multi-selection capabilities that make easy work of complex election tasks. And, of course, our devices generate results immediately without the need for hand counting.
Our audience voting solutions are perfect for any of the following election applications required by organizations in Colorado, CO:
Voting a single person into an open position within an organization
Voting multiple people into a multi-seated position, such as a committee
Proposing changes to an organizations policies, procedures, and bylaws
Recording those changes and calling for new voting to approve or deny changes
And more
Providing versatile audience voting technology is only one of the ways that Padgett Communications makes our customers' elections more efficient and reliable. For each election, we send an experienced project manager who can handle all equipment setup and software installation, ensuring the process goes smoothly. Our project managers also facilitate rehearsals to ensure our customers are comfortable using our equipment and even remain onsite during the voting process to troubleshoot any issue if they arise.
By providing the industry's finest technology and service, Padgett Communications has maintained a 100 percent success rate since 1995 after serving countless organizations across the globe. To learn more about the audience voting solutions that we provide in Colorado Springs, CO, contact us today.