Premium Audience Voting Devices Help to Streamline the Elections of Organizations in Seattle, WA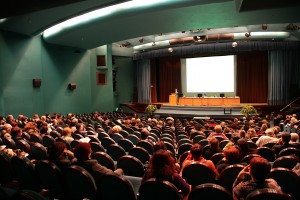 Traditional audience voting solutions, such as counting paper ballots, are time consuming and subject to errors that can jeopardize results. Fortunately, for organizations of all sizes in Seattle, Washington, Padgett Communications provides a voting method that is more efficient and accurate. We utilize state-of-the-art handheld devices that audience members can use to cast votes, whether for electing a single person into an open position or more than one individual into a multi-seated position, such as a board of directors.
Additionally, the audience voting devices that Padgett Communications provides to organizations in Seattle, WA, can be programmed to meet unique needs. For example, if your election involves many delegates with different voting weights, we can create or import lists so that these weights are assigned automatically.
What's more, Padgett Communications will provide your organization with comprehensive support, ensuring your election goes smoothly. This involves sending a project manager to your location who will setup your audience voting equipment and facilitate a rehearsal, so you are comfortable using our devices. During the election, your project manager will stand by to provide any on-the-fly changes or troubleshooting you may require. It is this commitment to customer satisfaction that has enabled us to maintain a 100 percent success rate since 1995. Some of the organizations we've served include:
Fortune 500 companies
Professional associations
Large energy companies
Research and technology firms
Syndicated television networks
And many others
If you'd like more information about the audience voting solutions that Padgett Communications provides to organizations in Santa Monica, CA, contact us today.