Using an Audience Voting System to Streamline a Sales Meeting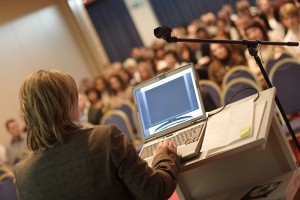 An audience voting system from Padgett Communications is a great way to get the most out of a sales meeting. What classifies a sales meeting as successful? The bottom line on that generally is the most information is conveyed as clearly as possible in as streamlined a manner as possible. Of course, every sales team has its own agenda, so the strategies employed should take into account the goals of the organization as well as the personalities of the team members. No matter what the agenda, though, Padgett Communications' hand-held audience response devices can help keep everything on track.
How can an audience voting system from Padgett help improve the productivity of your next sales meeting? No matter how many attendees you have, our hand-held devices can turn the meeting into an interactive experience that keeps everyone interested and engaged. An interactive sales meeting will be a welcome format change for your sales team members, who have probably sat through more PowerPoint presentations than they believed humanly possible. Padgett's audience interactivity strategies allow you to give your team members a voice they might not otherwise feel they have. Studies have shown that employees who believe their opinions matter within the workplace are more satisfied and productive. Our game show formats also can be used to team build or illustrate team goals in a fun, convivial manner that makes the usual sales meeting seem like an antiquated relic.
The audience voting system from Padgett Communications can help you keep the sales meeting on task and on time, which is one sure way to stay productive. To learn more about how we can help you plan an interactive sales meeting, or to request a comprehensive quote on your next sales meeting or conference event, click or call today.