Audience Voting System Solutions for Events & Conferences in Salt Lake City, UT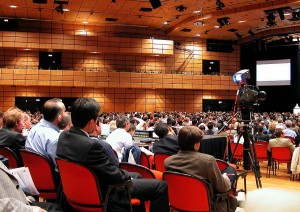 With Padgett Communications providing the audience voting system for your next event in Salt Lake City, Utah, you can have confidence that your audience interaction segments will be executed to perfection. While many audience response system (ARS) providers promise flawless results, we are the only company with a track record that proves we can deliver on that promise. Since opening business in 1995, we have maintained a 100 percent success rate for ARS service while facilitating meetings and conferences held in cities throughout the world. This accomplishment, coupled with our commitment to providing world-class customer service, has enabled our company to establish itself as an international leader in the ARS industry.
When choosing Padgett Communications to provide an audience voting system for your event in Salt Lake City, UT, you will receive the assistance of a full-time, project manager to oversee all aspects of our ARS service. This includes:
Equipment setup
ARS software installation
Conducting rehearsals and pre-system checks on all ARS equipment, including our state-of-the-art handheld keypads
Troubleshooting any issues that arise during audience participation segments
And more
Additionally, with a Padgett Communications project manager working alongside you on-site for the duration of your event, you will have the ability to change your program on the fly, if necessary, to generate the audience feedback you need to make your event a success.
Contact us today to learn more about our audience voting system, and ask to receive a free, itemized quote for your upcoming event in Salt Lake City, UT.