Use Creative Questions for the Audience Response Games at Your Event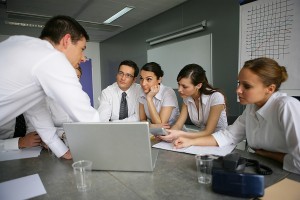 One thing you should understand when implementing audience response games at a meeting or conference is that there probably aren't many limitations in terms of what questions you can ask. After all, the purpose of these games is to get – and keep – your attendees engaged, and the best way to accomplish that is to keep things interesting. For that reason, you need to get creative with the questions you choose to pose to the audience. This way, you keep the interest level high and are able to generate useful audience feedback that can help you to accomplish your data gathering goals.
At Padgett Communications, we have years of experience in helping companies implement audience response games at meetings, conferences, and events. We are an internationally recognized audience response system (ARS) provider, and we've facilitated audience interactivity segments at events and conferences for both small firms and Fortune 500 companies, as well as for some of today's most popular talk shows. We'll be glad to put our expertise to work for you and help you gather the data you need.
One of the premier benefits to working with Padgett Communications is that for every job we undertake we assign a full-time project manager to work on-site with you and handle everything associated with ARS service. Your project manager can even provide input on the types of questions you can ask to help keep things interesting and creative, and help you adjust your questions on the fly, should you choose to steer your audience response program into another direction. This is a value you won't get with other ARS companies, most of which rely on under-qualified contractors as service providers for audience response games.
Some of the other major benefits of working with Padgett Communications include:
State-of-the-art handheld keypads
100 percent reliable data
Instantly archived polling results that are easily accessible
Contact Padgett Communications today to learn more about the benefits of having us facilitate the audience response games you want to incorporate at your upcoming event.