Conference Polling Systems Are More Efficient and Reliable than Traditional Methods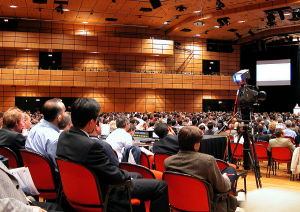 Padgett Communications has been providing conference polling systems for organizations around the globe since 1995, and we're proud to have maintained an unbeatable 100 percent success rate since that time. We achieve this by providing our customers with the industry's most advanced and reliable voting technology and by providing comprehensive support.
When you turn to Padgett Communications for conference polling systems, we will:
Listen to your specific needs and provide you with a complete price quote including everything you can expect from us
Help you develop professional presentations that are tailored to your needs and include audio, graphic, and video presentations
Send a project manager to your location who will set up your equipment, ensure all displays can be viewed easily by everyone at your venue, and familiarize you with our devices
Provide on-site support during your election from the same project manager, who will troubleshoot any problems and make on-the-fly changes as needed
Furthermore, we offer a range of conference polling devices that can be programmed to meet your unique needs. If, for instance, you're conducting an election that involves many delegates with different voting weights, we can import a list of all voters with assigned numeric weights. Or, if you need to vote a group of people into a single open position, such as a committee, we offer devices with multi-selection capabilities.
To learn more about the benefits of turning to Padgett Communications for conference polling systems, contact us today.