Using ARS From Padgett Communications For Effective Continuing Medical Education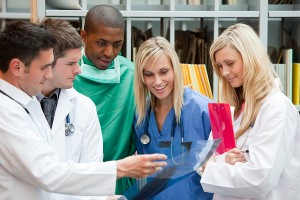 Continuing medical education (CME) is a necessary exercise for healthcare professionals. The ideal way to conduct an effective CME session is to use an audience response system (ARS) from Padgett Communications.
With Padgett's ARS service, CME participants are given the opportunity to interact wirelessly with the presenter. The presenter, in turn, can extract a wealth of valuable feedback from participants. It's all accomplished using the latest technology in hand-held keypads, along with completely customizable software. Continuing medical education sessions can include true or false questions, multiple choice questions, trivia questions, and more. The information can be immediately displayed in a variety of ways, including bar graph form, line graph form, X-Y mapping, and much more. Data is instantly archived for easy access later on.
Padgett's ARS service is perfect for any group conducting continuing medical education sessions and licensing seminars, including:
Professional medical associations
Medical education agencies
Hospitals
Medical schools
Nursing schools
Schools of dentistry
Veterinary schools
And more
What truly sets Padgett Communications apart from other ARS providers is our commitment to world-class customer care. Each client is assigned a personal project manager, and Padgett employees go to the meeting site for set up, rehearsal, and software programming. We are with you from start to finish, handling the audience response while you take care of everything else.
Call or click today to learn more about how Padgett Communications can enrich your continuing medical education program.