Election Systems and Software Available for Rent from Padgett Communications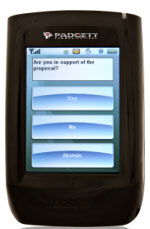 When the time comes for you to rent election systems and software for an election within your organization, consider renting from Padgett Communications. We understand the ins and outs of electronic elections as well as any company in the industry, and we're completely dedicated to helping organizations of all sizes discover simpler and more convenient methods for voting.
At Padgett Communications, we believe in providing only the finest for those we serve. Over the years, we've amassed a 100 percent success rate, and we do all that we can to ensure that this rate stays flawless. So, when you choose Padgett, you can rest assured that you'll receive exceptional:
Software – Since 1995, we have worked diligently to ensure that our proprietary software is on the leading edge and is capable of helping you run a seamless election without any time wasted
Voting equipment – We'll supply you with innovative handheld voting systems for your entire audience that are wireless and simple to use
Service – Our team will send one of our project managers to your election to assist in setting up all of the equipment, installing all of the software, and helping you understand how our unique voting systems operate before the election gets underway
All-around experience – We've served countless organizations in the past and helped them all manage elections successfully, so you can be certain that we'll do the exact same for you
For further information about the outstanding election systems and software that we offer and can rent for to your organization, please contact Padgett Communications today. Our team will gladly tell you more about the state-of-the-art equipment that we have available for rent. And, we can even prepare a fully itemized price quote for you, so you can know precisely how much everything will cost before you decide to rent from Padgett.