The interactive game show format is a popular format for team building, training exercises or any situation where assessing retention of information is important!
Questions within a game show can test individuals or a group on current and future products, company history, or conduct an audience survey on important events. Capabilities include collecting and tabulating audience feedback, voting on a favorite performance, and more.
The game show format, while promoting team building, can also assess understanding. The audience polling questions can be in multiple choice, true/false or yes/no format, and can also have a related point value to keep score.
The results of the questions can be shown, along with the answer, as a graphic display. Individual or team standings can be displayed after each question or after rounds of questions. The audience analysis shows which individual or groups have the best knowledge retention, and also reveals certain areas that may need more attention.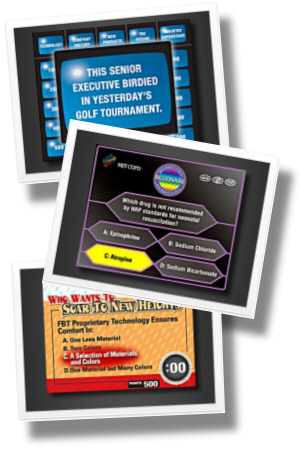 The fun with audience polling can be contagious, as it engages the audience and enlivens onlookers. It also allows team building to continue long after interactive meetings have concluded.
Sales Meetings
Focus Groups
New Product Testing
General Breakout Sessions
Employee Feedback
Medical Advisory Groups
Team Building
Strategic Planning
Education & Training
Entertainment Events
Audience Surveys
Many different result graphs can be displayed with audience response systems. These graphs can be vertical bar charts, horizontal bar charts, pencil graphs or pie charts with backgrounds customized to display a theme logo, corporate logo, watermark or other presentation graphic. The audience response system also allows for embedded video and sound files to create a complete multimedia presentation.
We can show you the most efficient and effective ways to incorporate Audience Response into your meeting. Don't forget to check out the Frequently Asked Questions page, to learn more about response systems.