Interactive Audience Response Systems for Events & Conferences Held in Nashville, TN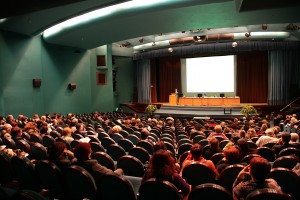 With an interactive audience response system from Padgett Communications in place, you can transform a routine meeting or conference in Nashville, Tennessee, into a productive, interactive experience. Our state-of-the-art audience polling systems allow you to effectively engage your audience and obtain 100 percent accurate data – and that's one reason why companies of all sizes, from small firms to Fortune 500s, have continually turned to us for ARS service since we were founded in 1995.
Another reason why we have a reputation as industry-leading ARS company is the level of service we provide. At Padgett Communications, we go great lengths to ensure that our clients receive unparalleled service and support, from the beginning of their event until the end. For every meeting or conference we are hired for in Nashville, TN, we will provide a full-time project manager to facilitate every aspect of our service. This person will work on-site for the duration of your event, coordinating hardware and software setup, pre-meeting rehearsals, and everything it takes to ensure a smooth and productive presentation. And, with a Padgett Communications project manager working at your side, you will enjoy complete flexibility during your presentation, allowing you to adjust your interactive audience response segment on the fly if it's needed. This is something you simply won't receive from typical ARS companies.
Padgett Communications' interactive audience response systems are ideal for use in a wide range of settings, including:
Audience surveys
Corporate team building exercises
Education and training sessions
Focus groups
Sales meetings
General breakout sessions
New product testing
And more
In addition, you can count on Padgett Communications' ARS equipment to provide 100 percent accurate and reliable data, and it all will be instantly stored and archived for easy access in the future.
Contact Padgett Communications today to receive an itemized quote for our ARS service and to learn how our interactive audience response technology can help enhance your upcoming meeting in Nashville, TN.