Interactive Audience Response Systems for Organizations of All Sizes around the World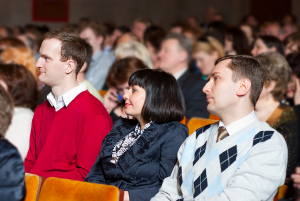 If you're to looking increase audience engagement at your next event, the interactive audience response systems available from Padgett Communications are the ideal solution. Our response systems can be tailored to your specific needs, allowing you to make the most out of your organization's next event. So, whether you require devices to play icebreaker games at a conference or vote candidates into open positions at your company, we have you covered.
At Padgett Communications, we offer four different types of handheld audience response devices, so you can select the option that best suits your needs. For example, if you're looking for a simple device that will allow your audience to answer yes/no and multiple choice questions, the Padgett Mini is the best choice. Or, if you're organization is holding an election that involves voting more than one individual into a multi-seated position, the Padgett Plus, with its multi-selection capacities and a secure login feature, may be for you.
No matter what device you decide is best for your event, you can count on Padgett Communications to provide first-class service throughout. In fact, we'll even send a project manager to your event's location who will be responsible for:
Setting up your equipment
Installing all necessary software
Running a rehearsal to familiarize you with our equipment
Configure all displays to ensure your entire audience can view them
Remain onsite during your event to troubleshoot problems and make changes on the fly
Having served countless organizations ranging from large energy companies and technology firms to sororities and professional associations since 1995, Padgett Communications has maintained a 100 percent success rate.
If you'd like to learn more about the interactive audience response systems that we offer, contact Padgett Communications today.