Interactive Voting Systems & Software for Rent from the Best Name in the Business – Padgett Communications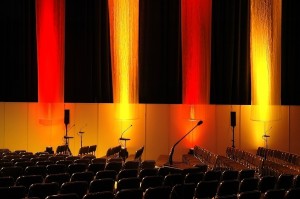 Do you need to rent an interactive voting system to help streamline the process of an upcoming election within your organization? If so, allow the team at Padgett Communications to provide you with everything you need. We proudly rent some of the finest voting equipment available and can supply you with all you need to oversee an efficient, successful election.
Turning to Padgett Communications instead of another company for an interactive voting system rental means that you'll be in good hands from start to finish. With Padgett on your side, you'll benefit from having the finest:
Software – Since our company's inception, we've stressed having the best proprietary election software available, and today we are proud to offer a unique software that allows for simple, seamless elections without any hang-ups
Interactive voting equipment – We offer a range of different handheld interactive voting devices, all of which are wireless and can be easily used by members of your audience
Customer service – When you work with us, we'll provide you with a dedicated project manager to ensure that the entire election event goes just as you planned
All-around experience – We proudly maintain a 100 percent success rate, and we make it our mission to ensure that our success rate with those whom we serve remains flawless
If you're interested in finding out more about the state-of-the-art interactive voting systems and software that we proudly rent to organizations all over the planet, please contact Padgett Communications today. Our team will be standing by to tell you more about the voting systems we offer, and also provide an itemized quote for your rental.