Using Padgett Interactive Voting Solutions for Training Sessions and More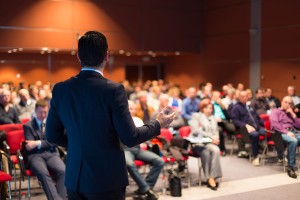 Interactive voting solutions from Padgett Communications are ideal for generating enthusiasm and emphasizing important points during employee training sessions. In addition, our audience response system (ARS) will allow you to instantly gather actionable information during the session. This information can be used to help the presenter know for sure that a point has been made, or if further elucidation is required. All it takes is for the on-site Padgett project manager to make the change on the fly, something that's not so easy with most DIY audience response software.
Interactive voting is voting in the moment, most likely in response to a question, usually with several answer options corresponding to a key on a Padgett Communications hand-held device. The questions can be multiple-choice, true-false, either-or, or any format you choose. Padgett provides a wide variety of display options, as well, including pie charts, bar charts, pencil charts, X-Y mapping, and more. The uses of interactive voting are practically limitless, including:
Encouraging audience engagement
Building consensus quickly
Presenting poll results immediately, in a variety of formats
Streamlining compilation and archiving of data
Demonstrating complex concepts simply
And more
Call or click today to discover how to use our interactive voting solutions for your next training session or event. We will provide all the technical support and on-site management you need, and your completely itemized quote is complimentary.