Keypad Voting Technology Available to Organizations around the World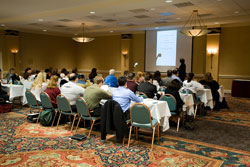 The keypad voting devices that Padgett Communications provide have helped countless organizations around the globe hold more accurate and streamlined elections. In fact, since 1995 and over the course of thousands of events, we've maintained a 100 percent success rate, which is thanks to our customer-service-centered approach. We won't simply ship you a box of keypads and instructions, leaving you to figure out the rest for yourself. Rather, we work with you from start to finish to ensure your election goes off without a hitch.
When you contact Padgett Communications, we'll take the time to discuss your unique needs and recommend the software and keypad voting devices that will work best for your election. We have several excellent options to choose from, including:
Padgett Mini – A small device with simple functionality
Padgett Plus – An excellent choice for elections thanks to its multi-selection capacity and login feature
Padgett Worldwide – A sleek device that has an easy-to-read digital display
Padgett Ativa – The most advanced keypad in the industry with a touchscreen and color display
Our service doesn't end once we've found the perfect keypad voting device for you. We'll send a project manager to your event who will set up your equipment, install all the necessary software, walk you through the use of our devices, and be available to make on-the-fly changes during your event.
If you'd like to ensure your organization's next election, conference, or meeting goes as smoothly as possible, turning to Padgett Communications for keypad voting solutions is the ideal option. Contact us today to learn more.