Technology to Streamline a Large Group Election Provided by Padgett Communications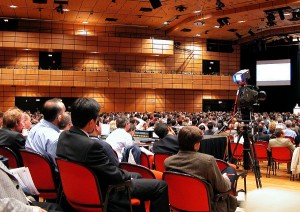 If you have a large group election coming up within your organization, turn to Padgett Communications to provide the service and technology required to ensure it goes smoothly. Using paper ballots is time consuming and may result in mistakes. And, do-it-yourself electronic election packages leaves organizations vulnerable to problems that can derail an election, such as data loss and software glitches. However, when you choose Padgett Communications' full-service solution, you'll enjoy a simple, stress-free experience that produces accurate results and streamlines the election process.
Since 1995, Padgett Communications has been providing large group election technology and support for organizations of all sizes, and we have maintained a 100 percent success rate. The key to our success is our unparalleled commitment to providing comprehensive service. When you hire us, we'll assign you an experienced project manager who will take care of everything from setting up your equipment and software to familiarizing you with our devices. He or she will even remain at your location throughout the election to troubleshoot issues and/or to make any last-minute changes you require.
What's more, our advanced voting keypads and proprietary software are extremely versatile and can be tailored to your needs. Our election technology can be used to:
Elect a single person to a vacant position
Elect multiple individuals to multi-seated offices
Propose changes to an organization's policies, bylaws, and procedures, and display the changes before the delegates vote
Present motions, which can be modified on the fly, preventing delegates from having to reconvene once the new verbiage is drafted
To learn more about how Padgett Communications' technology and services can ensure your organization's next large group election goes off without a hitch, contact us today.