Manage a Live Audience Election in Simpler Fashion with State-of-the-Art Equipment from Padgett Communications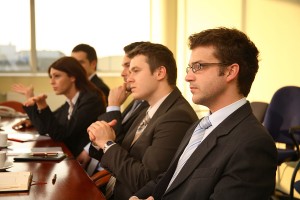 Overseeing a live audience election is no simple feat, but it can be made much easier with the assistance of audience response systems (ARS) and software from Padgett Communications. We're pleased to offer a selection of innovative software and handheld voting devices that can be utilized to provide a voting experience that is far simpler and more convenient than traditional paper ballot elections.
One specific benefit of turning to Padgett Communications for assistance with a live audience election is that we won't only provide you with outstanding voting systems and software, but will also offer one of our personal project managers to provide an unrivaled experience. Specifically, the person we provide for you will be responsible for:
Setting up all of our audience response equipment at your venue long before the election takes place
Installing all software and ensuring that it works correctly with the available video boards, monitors, and projector screens on site
Providing a pre-election walkthrough for you to help you get acquainted with the Padgett ARS equipment and give you a sense for how the actual election will unfold with our innovative technology
Working behind the scenes throughout your election to quickly troubleshoot and fix any problems that come up, allowing you to continue with the voting process without any disturbances
If you're interested in renting software and voting systems from Padgett Communications to aid in a live audience election within your organization, please contact us today. Our team will be here to address any questions or concerns you have for us and also to prepare a fully itemized quote laying out all that you plan to rent from us.