Using Live Audience Engagement is a Great Way to Break the Ice at a Conference or Meeting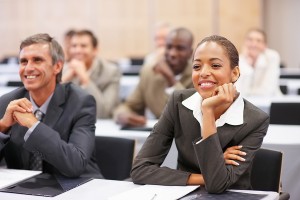 Incorporating live audience engagement at the start of a conference or seminar is a great way to break the ice and allow everyone in attendance to relax. After all, bringing a large group of people together – whether for a focus group, a corporate event, or another type of gathering – can easily lead to some tension forming. In order to facilitate audience participation, though, you'll need an audience response system (ARS) that is easy to use. That's where Padgett Communications can help. Our innovative handheld keypads feature a state-of-the-art display and are simple to operate, which will allow attendees at your event to quickly and effortlessly be engaged during your presentation by answering the questions you pose. Not only will our ARS equipment allow you to break the ice at the beginning of your event, but it also will provide you with real-time data from the live audience engagement segment, which can be quickly transferred into multiple different formats for easy viewing, compilation, and analysis.
There are multiple other benefits to working with Padgett Communications, an internationally recognized ARS service provider. Those benefits include:
On-site service – A full-time Padgett Communications project manager will work on-site at your event and handle everything associated with your ARS service. This includes conducting pre-event rehearsals to checking the audience voting equipment as well as troubleshooting any spontaneous issues that could arise.
Flexibility – With an experienced project manager working side-by-side with you, you will have tremendous flexibility with your live audience engagement segments, including the ability to adjust your program and questions on the fly, if you choose.
Accurate data – Through our years as an ARS service provider, we have established a perfect track record of providing 100 percent reliable audience participation data.
To learn more about the benefits of the industry-leading ARS service provided by Padgett Communications and how we can help you break the ice at your upcoming event with live audience engagement segments, contact us today. We'll gladly provide you with a comprehensive quote.