Live Audience Polling Solutions Available for Organizations All Over the Planet from Padgett Communications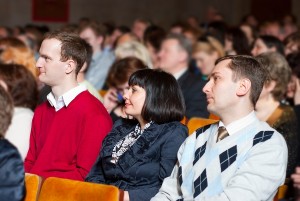 Are you looking for live audience polling equipment to rent for an upcoming election within your organization? If so, allow Padgett Communications to be of service. We proudly rent a tremendous array of electronic polling software and systems, and we'll work with you to find the specific equipment needed to help you oversee your upcoming election in as simple a fashion as possible.
Beyond simply supplying you with exceptional audience polling equipment, Padgett Communications will also provide you with one of our personal project managers to assist you throughout the election process. This person will be responsible for:
Helping to set up all of the audience response polling equipment and installing all pertinent software so that everything can run properly
Configuring all of the video boards, projector screens, and displays at the venue to see that they all respond to our equipment and can be easily seen by your entire audience
Providing a pre-election walkthrough to help familiarize you with how the Padgett voting equipment works, so you can be ready to lead the election when the time comes
Standing by throughout the election to add to your confidence and to troubleshoot any problems that arise on the fly
So, to learn more about the live audience polling systems and software that we can rent to help you improve the flow and accuracy of your upcoming election, please contact Padgett Communications today. We'll happily tell you more about the systems we have for rent and will even prepare a fully itemized quote for your rental.