Live Polling at Events Facilitated by Padgett Communications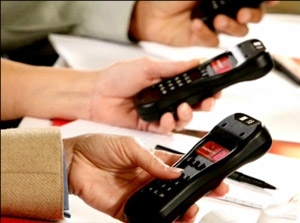 Live polling at events can help to increase your audience's engagement and allow you to gather valuable data. At Padgett Communications, we make it as easy as possible for organizations to take advantage of live polling by providing lead-edge handheld technology that can be seamlessly integrated into your presentation.
As a leader in the audience response industry, Padgett Communications has helped countless organizations in industries ranging from technology to broadcasting make the most out of their events. One of the ways that we accomplish this is by offering a variety of handheld polling devices that have versatile functionality. Our keypads include:
Padgett Mini – A simple clicker with 5 buttons that allows participants to easily respond to multiple question prompts and yes/no questions
Padgett Worldwide – A sleek clicker with 13 numeric keys that can be used for everything from trivia games to training sessions
Padgett Plus – A clicker that has a login feature and multi-selection capabilities, making it ideal for voting applications
Padgett Ativa – An advanced clicker that has a full-color touchscreen and can accommodate complex inputs thanks to its QWERTY keyboard
At Padgett Communications, we don't simply provide you with polling technology and leave you to figure out the rest for yourself, like many other companies do. Rather, we provide full-service support throughout the process. By sending a project manager to your location who will prepare for any contingency, you'll be able to rest assured that your event will go smoothly. You project manager will setup your equipment, familiarize you with using our devices, and even remain onsite during your event to troubleshoot problems if they arise.
Padgett Communications makes live polling at events as easy and hassle-free as possible. To learn more, contact us today.