A Live Voting System from Padgett Communications Will Help to Streamline Your Election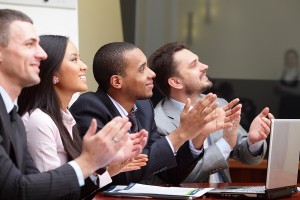 There are many benefits to utilizing a live voting system at your organization's next election. First and foremost, this method ensures accurate results, unlike traditional paper ballots. Additionally, voting results are instantaneous, saving your organization a significant amount of time. To ensure you get the most out of your voting system, turn to Padgett Communications. We aren't like many other companies that provide "meeting-in-a-box" solutions that leave you with the time-consuming task of setting up your equipment. Rather, we provide a full-service solution.
When you partner with Padgett Communications, you'll receive more than a live voting system. We'll send a project manager to your event who will ensure your election goes smoothly. This individual will set up your equipment, install all the necessary software, and provide a pre-election walkthrough to make you comfortable with using our devices. And, during your event, you project manager will remain onsite to make any on-the-fly changes you need or to provide troubleshooting in the event that problems arise.
What's more, Padgett Communications offers a selection of handheld voting devices to suit any specific application. Depending on your needs, our devices can:
Be programmed to assign a certain numerical weight to each voter
Have a login feature to ensure a secure election and accurate results
Have a multi-selection feature, which makes it easy to elect multiple individuals into a single position, such as a committee
Padgett Communications is proud to have maintained a 100 percent success rate since 1995. To learn more about the benefits of our live voting system, contact us today.