Meeting Voting Solutions from Padgett Communications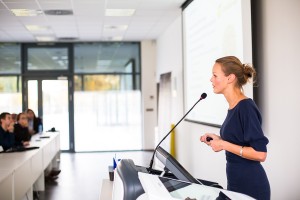 Padgett Communications' meeting voting systems can make any professional gathering more productive and engaging. We offer our customers a full-service solution, which includes highly versatile handheld voting devices and top-quality audio, video, and graphic presentations that are tailored to their needs. With our audience response systems (ARS) we've helped countless organizations of all sizes have more collaborative, efficient, and informative meetings.
One of the many advantages of using meeting voting systems from Padgett Communications is that they can be used in a wide range of applications, such as holding elections for open positions or voting on new bylaws, and the results can be immediately rendered in graphic form, such as:
A pie chart
A pencil chart
A vertical bar chart
A horizontal bar chart
In addition to providing versatile meeting voting solutions, Padgett Communications provides comprehensive support services to ensure your meeting runs smoothly. We will send a project manager to wherever your meeting is being held who will take responsibility for setting up your equipment, installing all required software, configuring displays, and even performing a rehearsal so that you are familiar with our systems. During your meeting, your project manager will remain on site to troubleshoot any problems and to make any changes that you require. It is this unparalleled commitment to customer satisfaction that has resulted in our maintaining a 100 percent success rate since 1995.
To learn more about the benefits of Padgett Communications' meeting voting solutions, contact us today.